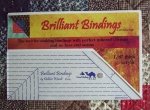 Brilliant Bindings for ALL Quilters

1/8" thick ~ traditional thickness of "regular" rotary cutter rulers.


Price

$ 10.00

Quantity:






Brilliant Bindings for Longarm Quilters

¼" thick ~ cut from ¼" thick clear acrylic. The Brilliant Bindings tool with instructions for binding on the longarm and DSM. It can also be used at the longarm machine as a ruler for stitching straight and diagonal lines.


Price

$ 15.00

Quantity:






Hex-a-ma-jig

A 3 1/2" Half Hexagon template with more lines for more cutting options. A Clear template with etched lines to see on any fabric. Lines for Half Hexie, Full Hexie, Partial Hexie, Triangles, Diamonds and Side Edges. Instruction booklet includes all cutt


Price

$ 17.50

Quantity: