Skip Navigation
Website Accessibility
About Debbie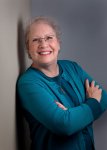 Debbie has combined her passion for sewing, quilting and teaching into a business that is truly on the go; Wendt Quilting.


Debbie is a home economics teacher by profession. This midwest girl began quilting in 1986 after taking a Continuing Education class. Sewing has always been at the top of her list of what defines her. Growing up she was enthralled with her grandmothers and their abilities as seamstresses. When fitting clothes took the fun out of the sewing, she turned to quilting. It was a great way to collect fabric and continue using her sewing skills.

Her quilting passion grew when she moved to Egypt after the marriage to her prince charming, Bob Wendt. Learning more advanced quilting skills from dear friends, Chris and Leslie, she gained a foundation. They began a quilting group that was later named
"Quilters in deNile"
. A move to Monroe, LA broadened her knowledge with guidance and encouragement from the Tuesday Bee's and the North Louisiana Quilters Guild. She and Bob moved back to Egypt where she was able to step right back into the quilting group she had started. With teaching quilting now her favorite pastime, her students included expats as well as Egyptians and Sudanese refugees living in Cairo.
"Teaching the World to Quilt"
was the article she wrote about teaching the refugees, published by AQS in the
American Quilter Spring 2004
.

A fortunate meeting in Barbara Chainey's
"Quilt It"
class led to a friendship and an opportunity to make the quilt
Accuracy Does Madder
for Barbara's book
Fast Quilts from Fat Quarters
. Debbie also longarm quilted many quilts for the book.

Now a resident of Massachusetts, Debbie continues in many quilting endeavors. She is an active member of Thimble Pleasures Quilt Guild and Blackstone Valley Heritage Quilters Guild and AQS (American Quilters Society). She owns a Nolting 18" Longarm quilting machine and quilts her own quilts. Her love of teaching quilting now includes the "machine" quilting world.

Teaching engagements include:


• Houston International Quilt Festival 2007, 2021, 2022


• MQX 2007, 2008 and 2009, MQX East 2012

• Innovations 2007, 2008, 2009 and 2010

• MQS 2008, 2009, 2010, 2011, 2012, 2013
• Quilting with Machines 2011
, 2012
• Round Bobbins 2011
• The Original Creative Festival 2010, 2011
• Rocky Mountain Quilt Festival 2011
, 2012, 2013
AQS Quilt Weeks 2014 - present
• and many quilt guilds and quilt shops.

She designs patterns and tools:

The next steps in Debbie's designing journey started with the quilt pattern "A Trip Around the States" based on a Trip Around the World. From there she designed patterns based on using traditional quilt blocks giving them a modern flair.


She designed the tool
"Brilliant Bindings"
. In 1999, a dear quilting friend Lil Griffin showed her a binding ending technique so the seam was the same as all others in a continuous binding. She made her own template to simplify the process and used it to teach others for years. She was encouraged to put the idea into form and had Brilliant Bindings made in 2007.

Her Brilliant Bindings tool shape, a trapezoid, proved to be a great jumping off point for many unique quilt patterns. Any of her patterns with "Brilliant" or "Tool" in the title uses Brilliant Bindings as a cutting template to make the quilt.

In 2017, Hex-a-ma-jig was created. A 3 1/2" half hexie shape template with more lines for more cutting options - Half Hexie, Full Hexie, Partial Hexie. The Hexie family grew in 2018 with Hex-a-ma-jig Jr. for 2 1/2" strips and Hex-a-Mini for 2" strips was introduced in 2021.

Many other patterns have been added through the years to include her popular "Snuggle Tails" and bag patterns.
Her self-published books include:

Construction and Production – Making and Binding a Quilt on a Longarm, Midarm or Shortarm

Chenille Made Easy on a Longarm
Hexie Speak - Say it with Hexies A Design Workbook
She feels blessed to have quilting friends and mentors all over the world. Most importantly, she cherishes the unyielding support and encouragement from her husband, their families, especially her parents.